Finishing a painting in one session is difficult! Here is a quick little rooster I did yesterday to post for the Thirty Paintings in Thirty Days challenge at
Leslie Saeta's blog.
I'm not exactly satisfied with it, and I know I'll end up coming back to touch it up... but for now, it's a painting that was done in one day... Whew!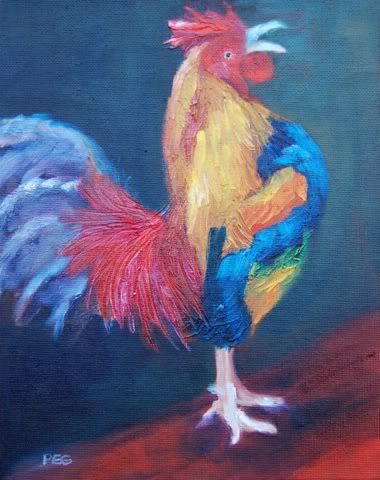 Colorful Rooster
8x10 oil on canvas board
A couple of years ago, I painted the rooster below. I like it much better, but I don't remember how much time I spent on it. The strokes are bold and free; maybe that's a technique I need to revisit. It's certainly a way to move a painting toward completion quickly.
"Something to Crow About"
8x10 oil on canvas
SOLD
I hope you'll visit
Leslie's blog
to check out some of the other participating artists. I'm happy that I persuaded a painting friend to join in. You can see Jo's painting of her cute little dog, Wolf Man
HERE
. While you're visiting her website, check out the wonderful pencil and ink drawings too!