I've been painting for about seven years now, but I don't always paint alone. I still take an art class every week and I LOVE it! We are a group of mostly retired people who encourage and inspire one another. Among the group, you will find a couple of watercolorists, several ladies who do intricate drawings in pencil, and painters using acrylics and oils.
The watercolor below was done by one of the quickest members of the group. Jeanne can crank out a beautiful painting in nothing flat! A native New Yorker, she often does scenes from the city and was kind enough to GIVE me a copy of this one. I had it framed for my daughter who will be moving from NYC soon; it will be a nice memory for her.
8.5x11" watercolor by Jeanne
While Jeanne is a speedy artist, Christine takes her time... and then some! She worked for months on this large, handsome drawing of her grandfather holding the reins of two horses. Meticulous, but oh so worth the time she spent!
"Doc and Maude"
pencil drawing by Christine
Christine won "Best of Show" in a regional art competition with this drawing of her grandparents. She worked from a small black-and-white photo... such patience she has! But recently, she's decided to hop over into painting and try out oils. She's started three large paintings. Do you think she'll whip out each one in a day? Me, neither!
"Grandma and Grandpa"
pencil drawing by Christine
A former member of our art class who is getting ready to move out of state... Boo Hoo!... has an upcoming art show in Nashville. Monica has artistic patience too. First, she makes a beautifully detailed drawing of her subject. When that's finished, she paints the same thing in oils. This is my very favorite example of Monica's work. It is of her now-grown daughter sleeping on the couch. The skin and hair are fantastically beautiful!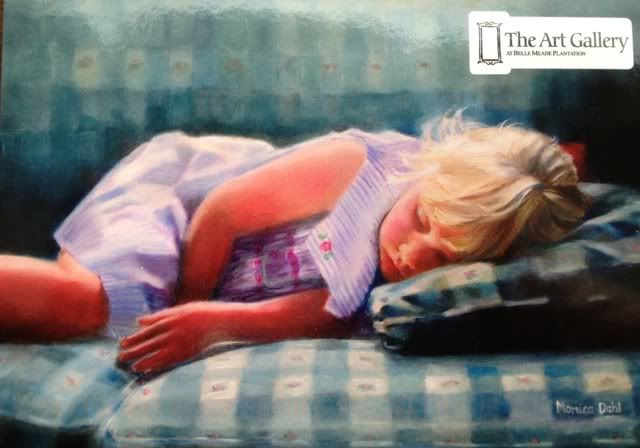 Monica's oil on canvas of her sleeping daughter
Art class is great fun; we laugh and talk and share creative ideas. There are many other wonderful artisits including some beginners with great potential. We help one another and that's the best part of being together. We give our teacher a hard time too!
Our teacher, Charles Brindley from his website
Charles Brindley is a wonderful artist. You can see his work
HERE
. Known for his intricately detailed drawings of trees, he also creates fabulous works in oils. However, in our class, he is known for being encouraging and patient! Charles has the ability to look at your work-in-progress and help you see how to improve it. Always calm, philosophical, and extremely kind, he is a wonderful teacher. You can read about his classes and workshops
HERE
and
HERE
and
HERE
.
If you have ever wanted to try your hand at art, I strongly encourage you to take a class. Art is not just for the talented. Almost anyone can learn to draw or paint and an art class is LOTS of fun. I've met some very good friends there! From time to time, I hope to share more of their work on this blog soon.