I started a couple of new paintings today. They're both paintings of cattle on our farm. Here you see a colorful steer... in BLUE! I like to paint the first layer in complimentary colors. This steer is reddish brown so I used blue to add color dynamics.
30x30 oil on canvas, unfinished underpainting
Last year, Pa put together a group of oddly colored steers, and right before they left the farm heading for a feedlot in Nebraska, he had me take photos of them. I'm finally getting around to painting the first one.
Reference Photos
The second painting is of a big gentle steer that Pa named Wayne. Now, it's not often that Pa gives a steer a name. Most get only numbers around here. Pa says naming a steer is bad for business because you usually get attached to them.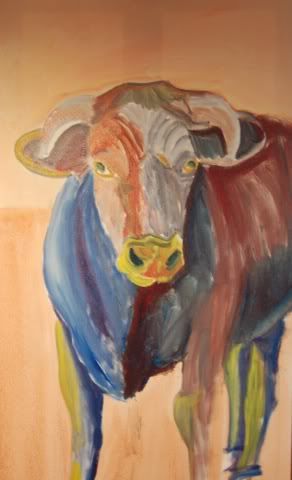 18x36 oil on canvas, unfinished underpainting
That's what happened with Wayne. But before I can tell you Wayne's story and show you the finished painting, I need to tell you about his predecessor, Charlie Brown. Stay tuned for a tale about a 2600-pound lead steer who lived on our farm for seventeen years!